Welcome to South Mountain Golf Course
Course Location: 9632 Swamp Road
South Mountain, PA 17261

Mailing Address: P. O. Box 394
Mont Alto, PA 17237
Course Phone: 717-749-3286
The South Mountain Golf Course is a 9-hole facility located on land of the Michaux State Forest. The facility is located 1/4 mile off State Forest Swamp Road, on Rocky Mountain Road. The golf course is leased from the Pennsylvania Department of Conservation and Natural Resources.

The land is 48 acres with a 9-hole golf course. The nine holes are set up for a par-36 for nine holes and par 72 for eighteen holes. Slope for men is 114 and for women is 106. The eighteen hole course rating for men is 66.1 and for women is 66.6. The course has been designed to have each nine holes look and play differently. This is done by changing yardage and tee locations. The 18 hole yardage for men from the blue tees is 5,784 yards and from the white tees is 5,480 yards Ladies yardage is 4,761.

Small greens and bunker locations make for a challenging round. Our par 3's may be the best par 3's of the local courses.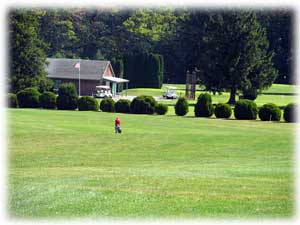 South Mountain Golf Course Events: 2016
Ladies Day
Wednesday Mornings - 9:00 AM (Course closed until 11:00 AM)
League is open to all lady golfers
Penn National Men's Golf
Tuesday and Thursday Mornings - 9:00 AM
League is open to all men golfers
Men's Night
Thursday evenings - 5:30 PM
League is open to all men golfers
Mixed Couples League
Start Time: 5:45 PM
Play is every other Wednesday; call clubhouse for dates of play